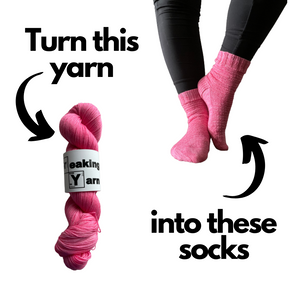 Want to knit the Holly White Socks in the Holly White Colorway? Now, you can get them together at a discount! 
Holly White is the daughter of Walter White and Skyler White in Breaking Bad. She's a baby in the show and doesn't get much older than 20 months. Pink in Breaking Bad represents naiveté, youth and tragedy. 
Holly White is a beautiful pink that is bright, yet soft. It's very much a tonal with some lighter sections. 
The socks in the pattern are knit cuff down, featuring a slip stitch heel, and a rounded toe! If you prefer to knit toe up – just follow the stitch pattern and make your normal adjustments.
There are four (4) sizes available with this pattern – Extra Small (56 Stitches), Small (60 Stitches), Medium (64 Stitches), and Large (72 Stitches). If you need a different size, just make sure you cast on a multiple of 4 and the pattern will work!
The Kit Includes: 
1 Skein Sock Fingering Weight in Holly White  
1 Holly White Sock Pattern - available as an instant download
The yarn can be purchased individually or in a different weight/base here
The pattern can be purchased individually here